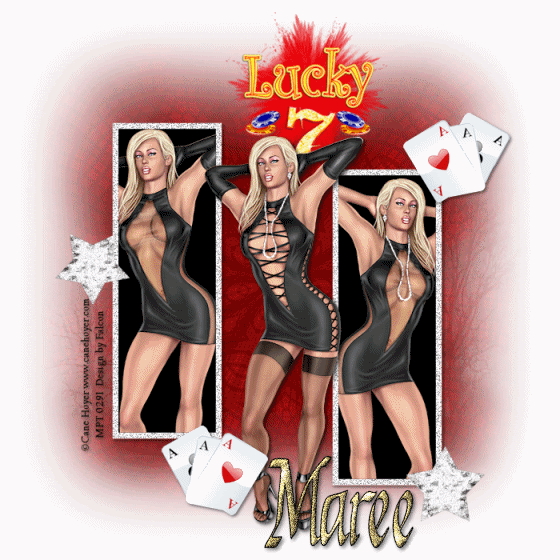 Supplies Needed
I'm using the artwork of© Cane Hoyer , you can purchase his tubes
Here
Scrap kit by Kim's Korner called Waking Up In Vegas FTU
Here
Font: Of Choice
Drop Shadow of choice.
HorsePlays Pasture mask_11
Here
Remember to Save Often!!!
Let's create
Open new image 650 x 650.
Background #ffffff and Foreground #000000
Using your Preset Tools draw out a rectangle not to large.
Click on out white area with Magic Wand/Adjust.Add Noise Uniform 10.
Duplicate layer.
On first layer click black area copy paste your tube/Layers/Merge down.
Repeat with the frame layer 2.
Add your main tube between the frames.
Open kk_WUIV_Freebie_cards duplicate/Image/Mirror,move them around
till your happy with placement.
Open kk_WUIV_Freebie_Wordart01 resize 65% move to center of layer.
Open kk_WUIV_Freebie_Bling-Star resize 45% duplicate and place on either side of frames/layers/merge down.
Open kk_WUIV_Freebie_Paper03/ new layer/selections/select all paste into selection/deselect.
Apply the mask then apply Graphic Plus-Tinted Glass with these settings:
If you wish to Animate the stars please continue.
Add your Artist © and your name then crop and save.
This is only a guide and feel free to use any other element you wish.
Most of all have fun creating.
Animation Shop
Open Animation shop then click back into Psp.
1.Click on star layer/Adjust/Add Noise/Uniform-30/click in AS paste as new animation.
2.Click back to Psp click Undo then repeat above using 35 then in As- paste
after current frame.
3.Click on undo then Repeat above using 40 again past after current frame.
Check your animation and if you are happy then Save as a Gif.
Email me your creation, so I can show off your creations on my blog.
Thank you for using my tutorial.
Written by © Maree (aka Falcon) on 3rd April 2011
Any similarities to this tutorial are purely coincidental