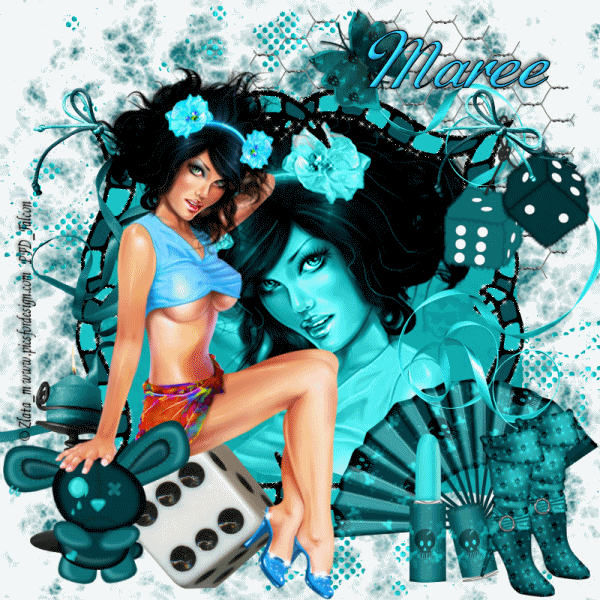 For this Tutorial you will need.
A Tube of your choice I am using the awesome artwork of © Zlata_M ,
which you must have a license to use you can get one at
PFD
Elements and Papers are from a scrap kit called Girlz by Bea *Bea's Creations*
you can find it
Here
. Please leave some love!!
Font:
Drop Shadow of choice.
Mask by *Dee's Designs Depot*, it's #13 you can download it
Here
Remember to Save Often!!!
Let's create
Open new image 700 x 700 fill with #ffffff.
Select frame02_bc_girlz_freebie, click inside frame with Magic Wand/
Selections/Modify/Expand by 10/ paste p05_bc_girlz_freebie
Selections/Invert/delete move below frame layer.
Paste your closeup tube in frame/position/hit delete/
move below frame/De-select.
Apply blend mode Luminace(Legacy).
Select fan01_bc_girlz_freebie place on right of layer resize 45%.
Select ribbon02_bc_girlz_freebie move to right of layer.
Select dice01_bc_girlz_freebie, move to top right of frame
Select lipstick01_bc_girlz_freebie move to lower right of layer reisze 36%.
Select ribbon01_bc_girlz_freebie move to left of frame.
Select candle01_bc_girlz_freebie move to left of frame, resize 42%.
Select butterfly01_bc_girlz_freebie, place above frame right side resize 24%.
Selectbow03_bc_girlz_freebie, place to left corner of frame,duplicate place
on frame corner right side.
Select boot01_bc_girlz_freebie,Image/Mirror/move to lower right of frame/
duplicate move down slightly/see tag.
Select deco09_bc_girlz_freebie,place on left of frame/resize 20%.
Select bunny02_bc_girlz_freebie,resize 65% move to left of dice.
Add your main tube place on top of dice.
On bunny layer using selection tool select right side of bunny head/
right click and Promote Selection to Layer.
Carefully using your Eraser tool on duplicated layer to show all hand.
Select wire01_bc_girlz_freebie paste above background layer.
Select deco01_bc_girlz_freebie move to top left of layer/duplicate/Image/Flip/Mirror
New layer above background,select allpaste into selection
p10_bc_girlz_freebie/apply mask/merge group.
Give all layer a Drop Shadow of choice.
Add your Artist © and your name then crop and save.
If you wish to Animate please continue.
This is only a guide and feel free to use any other element you wish.
Most of all have fun creating.
Now to Animate.
On your frame layer duplicate it twice, rename 1,2,3.
Click on layer 1 then Effects-Xenofex 2 Constellation with these settings:
Apply this to layer 2 click the random seed then ok, repeat again for 3.
Open AS back in Psp X-out frame layers 2/3.Edit/Copy Special/Copy Merged.
In AS paste as new animation.
Click into Psp X-out 1 open 2 make sure you have it highlighted,
then repeat above this time pasteing after Current frame.
Repeat for Frame 3 layer.
Check your animation then save as a Gif.
Email me your creation, so I can show off your creations on my blog.
Thank you for using my tutorial.
Written and copyrighted to Maree (aka Falcon) on 1st May 2011.
Under no uncertain terms are you allowed to make money from anything
produced from this tut, this is against my TOU's.
Any similarities to this tutorial are purely coincidental.