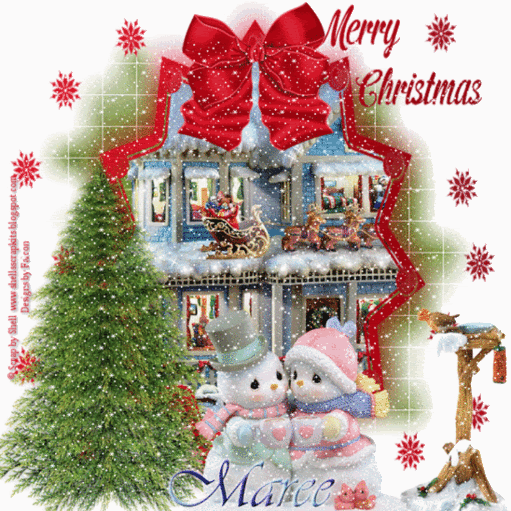 Supplies Needed
Scrapkit by Shell Scraps, FTU called MerryChristmasPU ,
Font: of Choice
Drop Shadow of choice.

Remember to Save Often!!!!
Let's create

Open new image 650 x 650.
New layer selelct all, open paper 1 paste into selection.
Apply mask04-merge grup.
Click inside frame with Magic Wand -Selections-Modify-Expand by 4.
Open Santa's house resize if needed then copy- paste on new layer, deselect.
Open Tree 1 resize 45 percent move to left of frame.
Open snowman 1 resize 75 percent place in lower-center of layer, see tag.
Open Sign 1 resize 45 percent place right side of layer.
Open Bow 1 resize 35 percent place at top of frame.
Open Paper 7 paste above background layer, apply mask 84, Merge group.

Add your Artist © and your name then crop and save.
This is only a guide and feel free to use any other element you wish.
Most of all have fun creating.

If you wish to email me your creation, I then can show off
your wonderful creations.
Thank you for using my tutorial.
Written by Maree (aka Falcon) on 23 December 2010
Any similarities to this tutorial are purely coincidental
© Maree(aka Falcon)