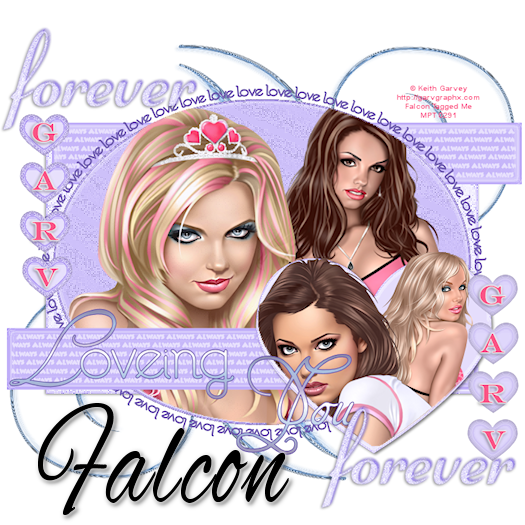 Supplies Needed

PSP X2 used but will work in any version.
Plugins - Eye Candy 4000 - Gradient Glow
I used the art work of Keith Garvey you can purchase
his artwork and license from
Here
Template and ScrapKit FTU Heavenly Blue
Here
Font of Choice
I used
Engraves Mt and AxelBrush
Lets Get Started
1. Open Template Ctrl +D and close original Template then delete vector layer( the layer with the copy
write on it.
2. Selection Tool / select freehand and outline one small heart then copy and paste postion it below the
the set see tag for placement then deselect. Now do the same with the other set, you now should have
4 hearts on each side.
3. Selection Tools / select Magic Wand click inside large circle then / Selections / Modify / Expand by 3.
Copy / Paste tubes of choice place then where you would like them. Select / Invert / Delete. Layers /
Merge / Merge Down your tubes.
4. Do this again with the small heart I used 2 different tubes for this. Give both sets of tubes a light Drop
Shadow.
5. Open loving You scrap kit and select Swirl 12 Copy / Paste. Give a light drop shadow also.
6. Copy / Past words "forever" and recolor. Adjust / Hue and Saturation / Colorize using these settings,
Hue : 179 / Saturation: 184 or color to your choice. Add any other Elements if you wish too.
7. I spelt out the name Garv with color #fa5685 then used Eye Candy / Gradient Glow / whiet.
Using these settings: 3.00 / 25 / 100 Thin then Effects / with a light Drop Shadow.
8. Add your name / watermark and Artist ©.
9. Click on layer/raster 9 / Select Flood Fill and fill back ground with color of choice.
10. Resize and crop and save and we are finished! I would love to see your results.
Thank you for trying my tutorial.
This tutorial was written by me, Falcon on the 30th January 2010. Any similarity to this turoial is purely coincidental. please do not copy or claim as your own. All my tutorials are registered with TWI.